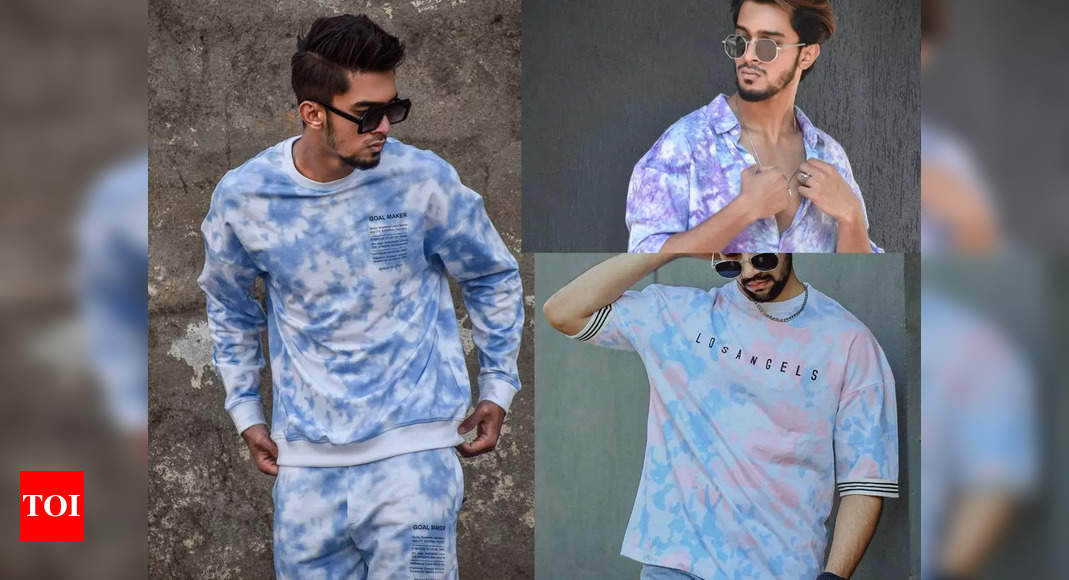 tie-dye style in summer: Styling Tie-Dye Men's Clothing in Summer
Tie-dye is a method of coloring natural materials that produces vibrant and fascinating patterns. The name comes from creasing, pleating or folding the fabric into different patterns before tying it with thread. The knotted fabric is dipped in dye vats, cleaned and wrung out. The bound sections absorb color unevenly between the folds, resulting in a variety of patterns in the final product.
Tie-dye is not limited to women's fashion. Tie-dye shirts, hoodies, bandanas and shoes are all over the menswear scene right now. Since last season, menswear designers such as Off-White, Jacquemus and Misbhv have showcased the best tie-dye clothes for men. And if you're a fan of old-school jam bands, tie-dye is almost in your blood. Swirling hues have been a symbol of joyful hedonism since the mid-1960s.
How do you style male tie-dye?
Amar Pawar, designer and founder of a menswear brand, says: "For starters, keep in mind that not all tie-dyes are created equal. Grateful Dead t-shirts with their bright psychedelic hues are not are not exactly trendy right now.Modern tie-dye has a particular modern aesthetic, unlike the rainbow vomit colors you are familiar with.Designers are actively experimenting with both darker tie-dye and tie-dye -dye pastel in terms of color.

"There are also several barely there tie-dye prints with plenty of space in their designs. Finally, many popular tie-dye garments are made to mimic marble or a cloudy sky, and blue is by far the most popular color. more popular for modern tie-dye clothing and accessories," he adds.
Some tips from Pawar

When it comes to tie-dye fashion, you should only wear one item of clothing at a time. Take that as a hard limit. Even if you have a wardrobe full of tie-dye sweatshirts, pants, and hoodies, one tie-dye piece is enough for any look.
Accessories are the only exception. If you have tie-dye socks, a hat, or a watch, pair them with another tie-dye item.
If you wear tie-dye shoes, you can wear a tie-dye top but not a tie-dye bottom.
Tie-dye is here to stay

When the tie-dye style first appeared on the catwalks of high-end fashion houses such as Prada, Dior, Ralph Lauren, Louis Vuitton, Dsquared and Burberry, it quickly spread to the streets. Tie-dye was one of the fastest growing fashion search phrases of 2019, according to global fashion search platform Lyst. While most people associate the movement with the hippie era of the 1970s, it existed in various forms centuries before.
Celebrity blogger and stylist Sarang Patil thinks having the right attitude can help you pull off a head-to-toe tie-dye ensemble. "Remember Timothée Chalamet's tie-dye ensemble for one of the events? The secret to rocking the trend is selecting the right clothes. Bottoms or overcoat are good choices to add punk to your wardrobe because they can be worn several times. If you still don't know how to wear it, a t-shirt or shirt in muted or monochromatic colors can be enough if you don't want to do everything, "he advises.