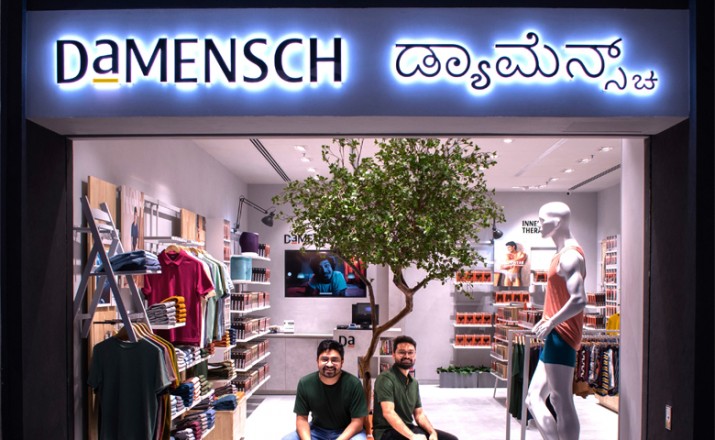 Menswear brand D2C DaMENSCH bullish on offline expansion, launches experience store in Bangalore
Menswear brand D2C DaMENSCH bullish on offline expansion, launches experience store in Bangalore
By Retail4Growth Office | October 19, 2022
The brand, which recently raised $16.4 million in Series B funding, aims to expand to 100 retail stores in metro cities by next year and expects business offline contributes Rs 500 crore by 2027 to overall revenue.
Menswear brand D2C DaMENSCH has announced the launch of its first-ever exclusive offline store. The experience store at Mantri Square Mall, Bengaluru allows customers to touch, feel and learn about the fabric innovations created in its loungewear and outerwear collections .
Designed to be modern, minimal and conscious, the store features a 'comfort line' – an orange rectangular block supporting a tree in the middle of the store, which aims to be a unique design identity.
Through exclusive experience touchpoints, customers can better understand the innovative and conscious practices that go into creating fabric from PET plastic bottles, thermoregulation, 4-way stretching and more, inform the company.
In line with its commitment to expanding its omnichannel presence, DaMENSCH's first 1,200 square foot store in a mall is thematically designed with fixtures and fittings in the brands' iconic colors.
The brand also aims to be available in 10,000 points of sale in different formats within 2 years.
DaMENSCH recently raised $16.4m in Series B funding and launched its first exclusive outlet at Mantri Square Mall, Bangalore. To provide a seamless experience for its new-age customers, DaMENSCH will soon expand to 100 retail stores in metropolitan cities by next year. The company also expects offline business to contribute 500 CR by 2027 to overall revenue.
Elaborating on DaMENSCH's brand ethos of 'fashion that thinks' and its compelling omnichannel go-to-market strategy, Gaurav Pushkar, co-founder of DaMENSCH said, "In an industry as dynamic as fashion, it is essential that we adapt and redefine strategies from time to time. This foray into offline stores is part of our omnichannel strategy. We believe our entire phygital approach is strictly consumer-centric and will soon sync with more processes to create a unified consumer journey. Our sole purpose of going offline is to serve the top fashion-conscious men in the country. We will continue to offer high-end eco-friendly fashion at affordable prices.